Estimated read time: 15 minutes, 39 seconds
Most billing and subscription management solutions let you:
Build various trial and subscription models (e.g., free or paid trial and usage-based or fixed price subscriptions).
Manage active subscriptions (e.g., upgrades, downgrades, and adding or removing products).
Send invoices and/or payment notifications.
Provide your customers with a self-serve portal where they can manage their account.
View reports on the key performance indicators that drive revenue.
However, most businesses find they need additional software for other aspects of the payment lifecycle, such as:
Payment processing
Collecting sales tax and VAT
Checkout translations
Currency conversions
Chargebacks
And more…
If you need any of these features, you'll need to make sure they are offered by billing software you choose (or easily integrate with other software solutions).
In this guide, we compare five solutions by looking at the billing and subscription management features they provide and the additional features they offer — starting with a deep dive into our solution for SaaS companies, FastSpring.
Table of Contents
FastSpring handles the entire monthly recurring billing process from subscription management to remitting end-of-year taxes for SaaS companies. To learn more about how FastSpring can help you scale quickly, sign up for a free account or request a demo today.
1. FastSpring: Subscription Management, Payment Processing, and Much More for SaaS Companies
FastSpring offers several options for subscription management (which we discuss below), however, it's more than just a subscription management platform — we're the Merchant of Record (MoR) for software companies.
As MoR, we take on transaction liability for you, meaning we:
Collect and remit the right amount of sales tax, VAT, and GST for you.
Make sure the necessary procedures and documentation are in place to stay compliant with the transaction laws in every location you sell.
We take the lead on audits.
Plus, FastSpring has comprehensive solutions for the entire payment lifecycle including:
Localized checkout (i.e., currency conversions, language translations, custom designs, and more)
International payment processing (for dozens of preferred payment methods)
Fraud detection
Chargebacks
Reporting and analytics
And much more…
In the following sections, we dig into a few of these features and services in more detail.
Custom Subscription and Recurring Billing Models for B2C or B2B
FastSpring makes it easy to set up nearly any subscription scenario with just a few clicks. You can set up most subscription types without any code, but you can also create more complex subscription logic via our API and webhooks library.
Here's an overview of your options:
Trials
Some subscription management tools will always collect payment details when potential customers sign up for trials, even free trials. This can cause some prospects to get cold feet and not finish the signup process. FastSpring lets you decide whether or not to collect payment details for each trial.
You can also:
Create trials of any length.
Design free, paid, or usage-based trials.
Choose to automatically bill the user after the trial has ended or wait for them to manually start a paid subscription.
Allow subscribers to reactivate expired trial accounts.
Choose when FastSpring sends reminders of ending trials (e.g., three days before the trial ends).
Automatically detect when a single user tries to sign up for multiple trials and only allow one trial account.
Subscriptions
Each business and each product within a business may see better results from different subscription models. For example, low-tier products may perform better if offered as a monthly subscription, whereas top-tier products may perform better if sold as an annual subscription.
Additionally, what was effective at one point in time may not be the best solution in the future.
That's why FastSpring lets you:
Choose the subscription frequency and billing date (or let your customers choose).
Set subscriptions to auto-renew, require manual renewal (i.e., customers have to re-enter payment information each time they're billed), or require your team to initiate the charge via the API (this is a good option for usage-based billing).
Offer discounts and coupons.
Allow prorated billing if a customer wants to upgrade, downgrade, or pause the service part-way through the billing cycle.
Add one-time purchases to the initial bill but not recurring billings.
Manage upsell and cross-sell products at checkout.
Give customers the option of whether or not to store payment information (or make the decision for all customers).
Auto-renew certain subscriptions to different subscriptions (e.g., when retiring a service or product).
Recurring Billing and Invoicing
FastSpring lets you manage B2B orders alongside B2C purchases with Digital Invoicing.
Digital Invoicing lets you:
Create and manage custom quotes in real-time (including custom tags, coupons, discounts, and more).
Set expiration dates for quotes.
Add notes for your customer or prospect.
Fully Branded Self-serve Features for Your Customers
FastSpring provides a self-serve portal where your customers can:
Renew subscriptions
Manage billing periods
Update payment information
View payment history
And much more …
We manage all of the backend maintenance for this portal so your team doesn't have to.
As your MoR, we take care of your customer's billing inquiries, including refund requests, billing issues, questions about their subscriptions, and more. Our platform also includes a customer portal that makes it easy for your customers to manage their subscriptions.
The image below shows a simple example of the self-service portal, however, for a more seamless customer experience, the entire portal can be customized to match your branding.
You can also enable buyer-generated quotes. This feature allows customers to generate a quote from the contents in their cart without contacting your sales team. This feature is very helpful for attracting potential customers that need approval before making a purchase.
Local Transaction and Indirect Tax Compliance Made Simple
There are two main aspects of compliance when it comes to recurring transactions:
Transaction compliance (i.e., the systems you have in place for collecting payment).
Sales tax, VAT, and GST compliance (i.e., how you collect and remit indirect tax).
To avoid fines and penalties, you have to consider both transaction laws and tax laws for every jurisdiction you do business in. In the following sections, we cover:
Examples of transaction laws that affect subscription-based companies.
Whether or not software companies have to collect sales tax, VAT, and GST.
How FastSpring handles all of this for you.
Transaction Compliance
Each country, state, and province has its own laws and regulations about how businesses can collect payment and store customer information. Most companies are aware of privacy regulations such as GDPR, however, there are many transaction regulations that aren't as well known.
For example, in some countries, such as Canada and Korea, customers are eligible by law for a prorated refund if they cancel their subscription before the end of the payment period. This is just one example for one aspect of the subscription lifecycle — and these laws and regulations are constantly changing.
With most subscription management solutions, you'll be on your own to learn about transaction laws and regulations and implement the necessary procedures. Additionally, some subscription platforms won't offer the necessary options to comply with laws and regulations (e.g., some platforms don't support prorated refunds).
On the other hand, FastSpring handles all of this for you. Our team of legal experts stays up to date on all relevant transaction laws and regulations and helps you implement the necessary procedures to ensure compliance. FastSpring also supports all necessary subscription models for compliance.
Sales Tax, VAT, and GST Compliance
Software companies didn't always have to collect sales tax, VAT, and GST, and in many jurisdictions, that's still the case. However, tax laws for digital goods and services are changing fast in many jurisdictions.
More and more countries are requiring software companies to collect some form of indirect tax. Plus, some countries are requiring digital companies to file tax forms even if they qualify for tax exemption.
Finally, remitting sales taxes is often more involved than filling out a tax form and wiring the funds. More and more countries are mandating additional requirements to stay compliant.
For example:
Countries such as Colombia, Japan, Mexico, Serbia, and others require local representation, meaning you have to hire someone with a physical presence in that country to be responsible for your tax liability. This can cost anywhere from $5k to $15k per year.
Countries such as Serbia, United Kingdom, Taiwan, and others require electronic invoicing from any company selling in their country. The EU is rolling out universal electronic invoicing requirements by 2028.
Countries such as Taiwan, Indonesia, Nigeria, Vietnam, and others require you to file income tax in addition to indirect tax.
Very few subscription billing platforms offer any features to help you collect tax. Even if they do, you're still held liable for making sure you're collecting the right amount. Plus, you have to remit those taxes and handle any additional requirements.
FastSpring handles the entire process of gathering and remitting sales tax, VAT, and GST for you.
We ensure the correct amount (and type) of indirect tax is being collected at checkout (including tax-exempt transactions in the US and 0% reverse charges when allowed internationally).
Then, our team remits those taxes for you and ensures all the necessary procedures are in place for full compliance.
Finally, if a country or state approaches you about tax compliance, our team will often provide copy and paste responses.
International Payment Processing for Dozens of Payment Methods
Most payment processors focus their efforts on a specific region and all payment processors have a finite list of payment methods that they support. For example, some payment processors aim to support transactions in the U.S. So, they'll only support the payment methods that are popular in the U.S. (e.g., Mastercard or Apple Pay) and they won't support something like UnionPay, which is commonly used in China.
Additionally, many payment processors will only process payments in certain countries and currencies. For example, they may support Amazon Pay but they won't process payments from Turkey.
SaaS companies that want to accept payments around the world have to connect with and manage multiple payment processors, which can be a huge task.
With FastSpring, SaaS companies automatically have access to multiple payment processors that specialize in international payments. FastSpring maintains relationships with multiple payment processors and dozens of card networks so that you don't have to. Simply turn on our localized payments feature and start accepting international payments right away.
FastSpring also offers multiple features to help ensure successful payments and reduce involuntary churn, including:
Local payment gateways: Transactions are more likely to be approved if the payment gateway is in the same location as the buyer (e.g., a transaction originating from Germany goes through a payment gateway located in Germany). FastSpring automatically routes payments through the payment gateway with the highest authorization rates for that location.
Payment gateway rerouting: If a payment fails on the first attempt, FastSpring automatically retries the payment using a secondary gateway — all without you or anyone on your support team having to intervene. This often solves payment failures due to connectivity or system issues.
Proactive payment reminders. If a customer's card is about to expire, FastSpring will notify the customer before the due date so they have a chance to update the payment information. You can use our pre-made notification template or customize your own message.
Multiple follow-up notifications. If a recurring payment is declined, you can schedule multiple payment failure notifications to be sent two, five, seven, 14, and 21 days after the initial failure. Before sending out each reminder, FastSpring will retry the payment.
Tailor-Made Checkout to Reflect Your Visual Brand
Most payment solutions offer a checkout module with a few options for customization such as adding your logo and choosing a color palette. However, these customization options are rarely enough to truly reflect your visual brand, create a seamless experience for your customers, and optimize your checkout for conversions.
FastSpring provides custom branding tools and CSS overrides so that you have extensive customizations options to control the look and feel of your checkout.
You'll also have access to our Store Builder Library — a JavaScript library which allows you to customize the buyer journey leading up to checkout.For example, you can create a cross-sell or upsell funnel. This lets you optimize the buyer experience for higher conversions.
FastSpring checkout comes in three versions: embedded, popup, or as a web storefront. The web storefront redirects your customers to a separate page hosted by FastSpring.
With any of these options (including the web storefront), you'll be able to customize the checkout flow using FastSpring branding tools and CSS overrides to match your visual brand.
Here are several other features that FastSpring offers to help you optimize your checkout:
Localized Checkout: Let customers choose their preferred language and currency or let FastSpring choose the appropriate language and currency based on the buyer's location. FastSpring supports 19+ languages and 23+ currencies.

Built-in tracking and testing tools: With FastSpring's built-in tracking tools, you can easily identify ways to improve conversion rates. Companies that use this tool are typically able to increase their conversion rates by 30% or more.

Learn more: Case Study: Capture One increased conversions by 40% using FastSpring

Personalized developer support: Our team is always happy to help you build the best checkout experience for your business. Some companies only provide personalized support to their largest clients and practically ignore small businesses. At FastSpring, we believe every company deserves the same attention and care.
Comprehensive Reporting and Analytics
FastSpring Analytics and Reporting automatically tracks key metrics and puts them in meaningful reports so you can easily answer questions such as:
Where are the majority of my highest paying customers located?
Which products are bringing in the most revenue?
Which discounts are generating revenue vs. draining revenue?
And many more…
FastSpring reports are divided into two main dashboards: Revenue Overview and Subscription Overview.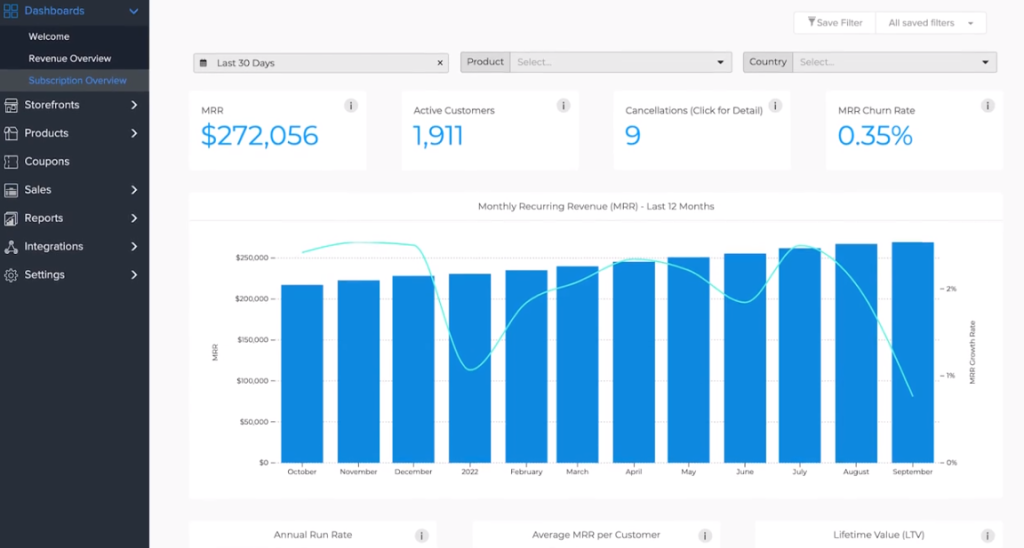 If you don't find the report you need, you can customize any report and save it to your dashboard. Our team is always available to help you design custom reports to find the answers you need.
Our data API and webhooks make it easy to pull in revenue and subscription data to whatever CRM or business intelligence tool you use. Any report can also be downloaded as a CSV, PNG, or XLSX file.
All-in-One Pricing (No Hidden Fees)
Many payment system providers will charge a base price for payment processing and a few core features, such as embeddable checkout. However, you'll typically have to pay extra for other features such as currency conversions or fraud detection. Very few payment platforms are a complete solution, so most companies need to add on additional software. This makes it difficult to scale globally as your business grows because the cost will continue to increase as you need more features and software.
FastSpring is a complete payment solution for SaaS companies with everything included in one flat-rate fee based on the volume of transactions you move through FastSpring. Plus, you'll only be charged when transactions take place.
Reach out to our team to find the price that works for you or sign up for a free account.
Next, we cover four more payment platforms for subscription-based businesses.
2. Chargebee
Chargebee is a well-known subscription and recurring billing system.They offer out-of-the-box integrations with many different software to help you manage aspects of the billing lifecycle that they don't provide a solution for (e.g., Stripe for payment processing). They also offer integrations with popular business software such as Salesforce.
Here are a few highlights of Chargebee features:
Usage-based billing, automated invoicing, proration, and more
Automated processes for accounts receivable
Compliant revenue recognition and subscription models
Support for in-app purchases
Self-service portal for customers
Smart dunning
You can use the Chargebee platform for free for the first $100k in revenue earned. After that, they offer a variety of pricing plans for different ranges of monthly income.
Learn more: 8 Best Chargebee Alternatives and Competitors (And How They're Different)
3. Recurly
Recurly is a recurring billing platform built for optimizing your growth strategy. Recurly easily integrates with various payment gateways and merchant accounts, however, you still have to manage and pay for these third-party services on top of your Recurly plan.
Here are a few other highlights of Recurly's features:
Customizable subscription models
Automated recurring invoicing
Revenue recovery tools
Intelligent retention
Customer subscription analytics
Recurly offers three pricing packages, however, you have to reach out to their team for details.
Learn more: Recurly Competitors and Alternatives: An In-Depth Review
4. Chargify
Chargify is a subscription billing software that's in the process of merging with SaaSOptics, a revenue management platform. This merger will let you automate subscription management, revenue and expense recognition, and SaaS metric tracking from one revenue management system.
Here are a few highlights of the functionalities Chargify offers:
Usage-based and global billing
Revenue recognition and billing management tools
Billing system analytics and metrics
Built-in integrations with various other software (e.g., accounting software like QuickBooks and Xero)
International payment gateways
Chargify specifies a pricing plan for companies earning $75k per month in billings, but, if you earn more revenue or want access to all features, you'll have to contact their team.
5. Zoho Subscriptions
Zoho Subscriptions is one piece of the Zoho platform (a suite of software for every aspect of your business, e.g., CRMs and ERPs). If you're already using the Zoho platform, this could be a good option. However, new users typically find it has a steep learning curve.
A few highlights of Zoho Subscriptions include:
Multiple pricing models
Customizable, tax-compliant invoices
Multi-currency conversions
30+ pre-built reports to track each stage of the subscription lifecycle
Support for in-person cash and check payments (in addition to credit card payments)
Out-of-the-box integrations with other billing solutions (e.g., Stripe, PayPal, etc.)
Tools to create custom workflow rules
Each aspect of the Zoho platform is priced separately — including Zoho Subscriptions — which can make it difficult and costly to build an end-to-end payment solution.
Instead of managing a large software stack, let FastSpring handle the entire payment lifecycle for you. If you think FastSpring could be the best recurring billing and subscription management software for your business, sign up for a free account or request a demo today.