Estimated read time: 16 minutes, 4 seconds
Zuora is a recurring billing and monetization solution for:
Subscription management
Revenue recognition
Payment collection
Quotes
And more…
However, Zuora has one main shortcoming — it doesn't handle sales tax or transaction liability for you.
Most countries, states, and provinces have specific regulations for how transactions have to be handled. For example, for any business that transacts in India, the Reserve Bank of India limits automatic payments to ₹15,000 (approximately $180) — anything over that amount has to be manually approved by the customer. Using a platform like Zuora, you'll be on your own to know about and adhere to these laws and regulations.
Plus, most states and countries have specific regulations about the type and amount of indirect tax (e.g., sales tax, VAT, or GST) that needs to be collected and how those taxes get remitted. For example, countries such as Taiwan, Indonesia, Nigeria, Vietnam, and others require you tofile income tax in addition to indirect tax if you do business in that country. Again, Zuora leaves you on your own to figure out and follow these tax laws.
Related: Can SaaS Companies Afford to Ignore Sales Taxes and VAT?
If your company sells physical products and/or services, you'll need additional software and headcount to manage sales tax and transaction liability. So, in the following list, we share how easily each solution integrates with other software.
On the other hand, if your company sells digital products, our payment platform, FastSpring, provides a solution for everything from payment processing to subscription management — and takes on transaction liability for you.
In this guide, we start with an in-depth review of FastSpring. Then, we cover five more Zuora competitors.
Zuora Alternatives
FastSpring handles the entire payment lifecycle from subscription management to remitting end-of-year taxes for software companies. To learn more about how FastSpring can help you scale quickly, sign up for a free account or request a demo today.
FastSpring: End-to-End Payment Platform for SaaS
FastSpring has been helping software companies expand globally for nearly 20 years. We're more than a software solution, we're the Merchant of Record for software companies. As a merchant of record, we take on transaction liability and handle gathering and remitting sales tax, VAT, and GST for you.
Here are a few examples of how other SaaS and digital goods companies have benefited from working with FastSpring:
In the following sections, we dig into what it looks like to work with FastSpring.
Let FastSpring Collect and Remit Sales Tax, VAT, and GST for You
Software companies haven't always been required to collect and remit sales tax, VAT, and GST, however, that's quickly changing. More and more countries are requiring software companies to collect and remit some form of indirect tax. For example, in the last few years, Canada, Thailand, Puerto Rico, Ukraine, Israel, and Pakistan (just to name a few) have all passed new tax laws that specifically target non-resident companies selling digital products.
This means software companies now have to:
Stay up-to-date on the tax laws of each jurisdiction they do business in. These tax laws are constantly changing so it can be very difficult to keep up with all of them.
Implement processes for calculating and gathering the correct amount and type of indirect tax. There is SaaS tax software to help you do this, however, most solutions have limitations and most are inadequate for gathering international tax.
Remit those taxes in the correct way and at the correct time. Remitting sales tax (or VAT and GST) is rarely as simple as filling out a form and wiring a payment. For example, some jurisdictions will only accept the payment if you have a local representative handling your taxes for you.
Plus, many jurisdictions have additional requirements for staying compliant beyond simply gathering and remitting the correct amount and type of indirect tax. For example, some countries require you to:
Keeping up with all the processes and requirements to stay compliant is a huge chore and most companies need an entire department dedicated to the task.
This isn't an issue for FastSpring clients because we take the lead on all of it for you.
We collect the correct amount (and type) of indirect tax at checkout (including tax-exempt transactions in the US and 0% reverse charges, when applicable).
We remit those taxes for you at the right time and ensure all necessary elements are in place for full compliance.
Finally, if a country or state approaches you about tax compliance, our team will often provide copy and paste responses.
Manage All Subscriptions from One Platform While Staying Compliant with Transaction Laws and Regulations
FastSpring provides a wide variety of subscription management models specifically for SaaS companies — and your team won't have to write code to use them. (You will also have access to our API and webhooks library for even more custom options.)
You can set up:
Automatic weekly, monthly, or yearly recurring billing.
Prorated billing to accommodate upgrades and downgrades mid-cycle.
Free or paid trials of any length.
Trials with or without collecting payment details (by not collecting payment details, you're reducing friction at checkout, which typically leads to higher conversion rates).
Automatic or manual renewal.
Upsells, cross-sells, one-time add-ons, and discounts.
And much more…
Related: 8 Best Chargebee Alternatives and Competitors (And How They're Different)
When choosing your subscription model, one major consideration that often gets neglected is whether or not your recurring billing model follows local transaction laws and regulations.
As we mentioned earlier, some countries require manual approvals for certain transactions, specific privacy policies to be in place, and more. For example, in Canada and Korea, customers are eligible by law for a prorated refund if they cancel their subscription before the end of the payment period.
If you don't follow these laws and regulations, you could face fines or be banned from doing business in that jurisdiction. Some payment solutions claim to help you keep up with these laws and regulations, however, they typically only help by publishing community updates if/when they learn about new laws — you're still the one ultimately responsible for compliance.
At FastSpring, we take it a step further and assume transaction liability for you by:
Staying up-to-date on all relevant legalities.
Ensuring all the necessary procedures are in place.
Taking the lead on audits.
Offering individual guidance on how to stay compliant.
Related: International Recurring Payments (How We Handle It for You)
Easily Manage B2B Quotes and Billing with Digital Invoicing
Some companies end up needing additional software to manage B2B transactions in addition to B2C transactions.
FastSpring lets you manage B2B orders alongside B2C transactions with one platform by providing the subscription management features covered above and our Digital Invoicing feature.
Our Digital Invoicing feature lets you:
Create quotes from inbound leads and customize prices. You can even create custom discounts, set expiration dates, and more.
Provide your customers with a self-serve quote portal. This is particularly useful when customers need management approval before purchasing.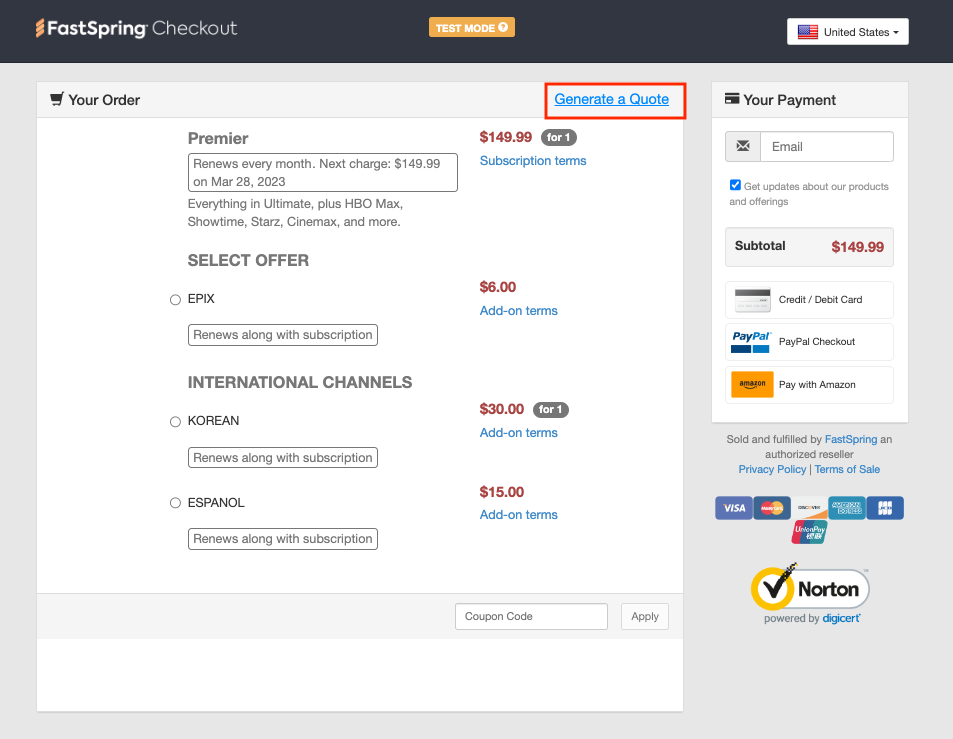 Give your customers the option to generate an invoice instead of entering payment details. This is useful when companies have an accounts payable procedure that requires an invoice.
With all of these options, you can track the purchase process, automate order fulfillment, make updates, and much more in real-time.
Expand Globally Overnight with a Localized Checkout and Multiple Payment Gateways
Each payment processor will have specific countries, payment methods, and currencies that they support. For example, a payment processor may support Amazon Pay in the United States but they won't process payments from Brazil. Or a payment processor may support Union Pay in China but won't offer any payment methods that are commonly used in Canada.
Eventually, SaaS companies end up needing multiple payment processors in order to:
Accept more payment methods.
Increase authorization rates for international transactions.
Accept payments from more countries.
With most payment platforms, you have to manage and manually connect to each payment gateway individually. Then, you also typically have to code automatic processes that send payments through the payment gateway with the best authorization rates for that region. Not only is this a drain on your team's time and resources, but it also makes it difficult to expand quickly.
There are several ways that FastSpring makes it simple to expand globally:
You automatically have access to multiple payment gateways. Our team handles the entire setup and management of each payment gateway so you don't have to. Each payment automatically gets routed through the payment gateway with the highest authorization rates for that region. (Note: If the payment fails for any number of reasons, it automatically gets re-routed through a different payment gateway, reducing the number of failed payments.)
Checkout is localized to reduce friction. You can set the language and currency for specific regions, let the customer choose, or let FastSpring automatically choose the appropriate currency and language based on the buyer's location.(Note: You also have several options for customizing the look and feel of your FastSpring checkout, including the option for a popup or embed checkout or a web storefront managed by our team. You can even customize the buyer journey leading up to checkout with FastSpring's JavaScript Store Builder Library.)
Transactions are filtered through Sift for advanced fraud detection. International payments come with increased risk, which is why it's important to work with a company that understands and has experience combatting the additional risk. Sift is a global leader in risk analysis and fraud prevention. They use machine learning and AI to analyze millions of global transactions each month to identify risky transactions with higher accuracy.(Note: FastSpring takes the lead on chargebacks and resolving any fraudulent situations that do arise.)
Related: Top 10 International Payment Gateways: An In-Depth Guide
Reduce Involuntary Churn with an Intuitive Customer Portal and Proactive Dunning
It's easy for companies to lose customers simply because their subscription lapsed and it was too difficult for them to restart the subscription. For example, let's say a customer's payment method expires without them knowing and the payment fails to go through. They go to fix the issue and realize they can only update the payment info by contacting a sales rep. They keep pushing off the phone call and eventually forget about it entirely.
FastSpring helps you avoid these situations and prevent customers from churning with:
Proactive reminders. With FastSpring, you can configure automatic email reminders that notify customers of upcoming payments and soon-to-be-expired payment methods. This gives customers the opportunity to get ready for upcoming payments so that the subscription never lapses.
Multiple follow-up reminders. Some customer management solutions will let you send out an automatic notification after a failed payment, however, we've found sending out multiple reminders is more effective. With FastSpring, you can set up automatic reminders to be sent out two, five, seven, fourteen, and twenty-one days after a payment method fails.
Self-serve portal for customers. A self-serve portal reduces friction and makes it really easy for customers to update their payment information and manage their account without contacting your sales team. B2B clients can even manage quotes and invoices from this portal.
Make Informed Decisions with Detailed Reports and Analytics
FastSpring Reporting and Analytics is a robust feature built into your FastSpring dashboard. It automatically tracks key performance indicators and puts them into meaningful reports to help you understand:
How various products contribute to your monthly and yearly revenue.
When in the lifecycle customers are most likely to churn.
What coupons or promotions are working (or not working).
Which subscription models generate the highest conversion rates.
Where the majority of your customers and your highest paying customers are located.
What currencies and payment methods customers prefer across the board.
And much more…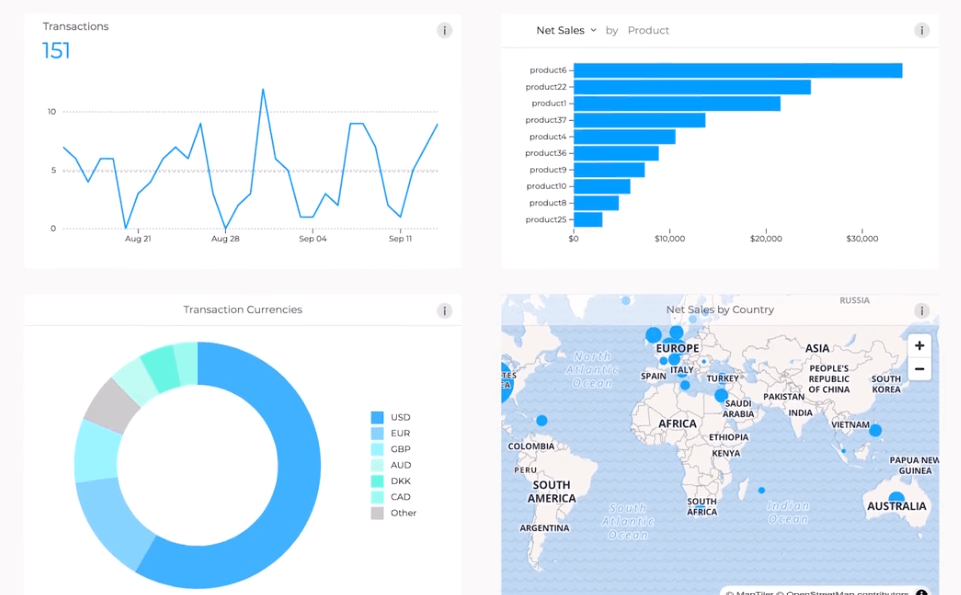 There are two main analytics dashboards — the Revenue Overview dashboard and the Subscription Overview dashboard — however, there are many different reports and views available. If you don't see the exact report you need in these dashboards, you can create and save custom reports. Or, you can reach out to our team and we'll help you find (or build) the report you need.
Any report can be viewed in your dashboard or downloaded as a CSV, PNG, or XLSX file.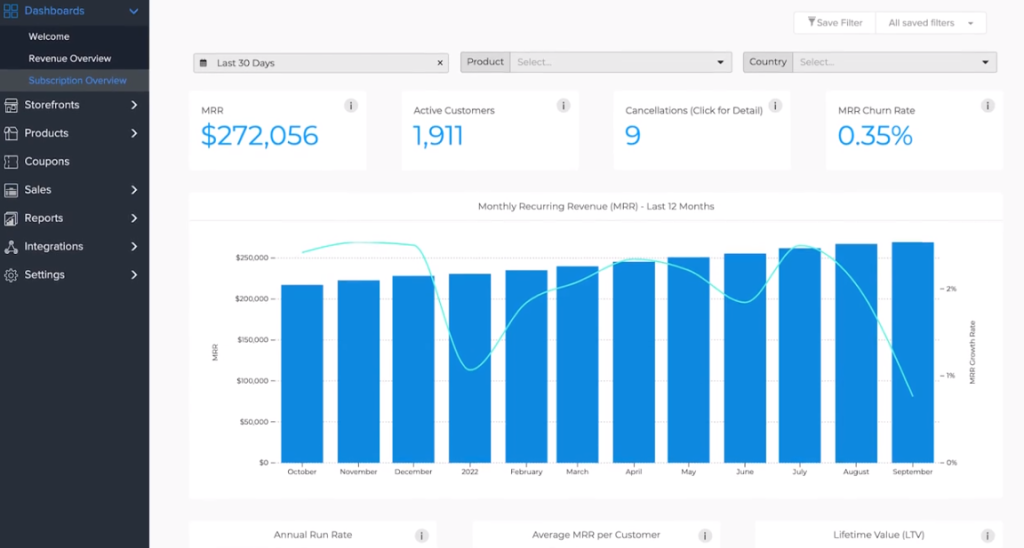 Manage Your Entire Payment Lifecycle for One Flat-rate Fee
With most payment platforms (like Zuora), software companies have to pile on software after software to build out all of the pieces they need for a complete payment solution. Plus, many of these payment platforms have tiered pricing or charge extra for some features. All of this can add up to a hefty bill. Plus, it makes it difficult to scale and know what you'll be paying.
On the other hand, FastSpring's pricing is simple: All features mentioned above — multiple payment gateways, transaction liability support, etc. — are offered for one flat-rate fee based on the volume of transactions you move through FastSpring. And, you'll only be charged when transactions take place.
Plus, we offer personalized support (at no additional cost). Our team can help you configure FastSpring to be the payment solution you need and is always happy to answer any questions you may have.
Some companies only provide personalized support to their largest clients and practically ignore small businesses. At FastSpring, we believe every company deserves the same attention and care.
Note: FastSpring provides an API to easily integrate with other software.
Reach out to our team to find the rate that works for you. You can also preview FastSpring features by setting up a free account.
5 Other Zuora Alternatives
Zoho Subscriptions: Alternative for Zuora Billing
Zoho offers cloud-based solutions for most aspects of your business from social media management to online payments. Zoho Subscriptions is their solution for subscription management.
Zoho has so many different features that companies may find they don't need to integrate with as many additional software solutions. That being said, you can integrate Zoho with most software.
It's also worth noting that each aspect of the Zoho platform is priced separately, including Zoho Subscriptions. So, it can be difficult and costly to build an end-to-end payment solution.
Companies already using the Zoho platform may benefit from using this solution, however, many new users find it has a steep learning curve.
A few highlights of Zoho Subscription billing are:
Multiple pricing models
Customizable, tax-compliant invoices
Multi-currency conversions
30+ pre-built reports to track each stage of the subscription lifecycle
Support for in-person cash and check payments (in addition to credit card payments)
Out-of-the-box integrations with other billing solutions (e.g., PayPal)
Tools to create custom workflow rules
Salesforce Revenue Cloud: Alternative for Zuora CPQ
Revenue Cloud by Salesforce is designed to let you manage the entire revenue lifecycle from the same platform your sales team uses to manage leads and deals. Salesforce provides out-of-the-box integrations with payment gateways so that you can process credit card and ACH transactions. They also offer solutions for subscription management, configuring price quotes, and billing.
Salesforce is another platform that offers several software solutions for businesses. They also offer an API for integrations.
Highlights of Revenue Cloud include:
Step-by-step process for helping sales reps build the right deal.
Automated renewal, upsells, and cross-sells.
The ability to pull multiple charges onto one invoice.
Metrics for tracking the lifetime value of a customer.
Support for one-time and subscription-based products.
Related: SaaS Billing Software: 7 Tools in 3 Categories & How to Choose
Stripe: Alternative for Zuora Collect
Stripe is a payment processing and billing platform used by many SaaS and non-SaaS companies (from startups to legacy companies). While it works quite well for many companies selling physical goods and services, it may not be the best choice for companies selling digital goods.
We cover why Stripe may not be the best solution for SaaS companies in this article on Stripe alternatives and this article that compares Stripe vs. Paddle vs. FastSpring. However, the main reason is that most software companies end up adding tons of software on top of Stripe in order to accept global payments (and Stripe also leaves you on your own to handle tax and transaction liability).
Stripe offers several built-in integrations with other software and can be manually integrated with most other software.
If you are interested in Stripe, here are a few of Stripe's functionalities:
Customizable UI and pre-built checkout flows
Simple subscription management
Fraud prevention and risk management
Flexible billing logic automation
Online invoicing
In-person payments
Chargify: Alternative for Zuora Revenue
Chargify is in the process of merging with SaaSOptics in order to offer subscription management software and revenue management as an all-in-one billing platform (however, they don't offer payment processing on their platform, instead they integrate with Stripe billing to process payments).
Chargify appears to focus more heavily on their billing software for B2B SaaS companies, however, they do support B2C transactions. They also advertise the ability to support any ecommerce go-to-market strategy.
Chargify offers a library of other software they integrate with and an API.
Here are a few highlights of Chargify's platform for subscription businesses:
Usage-based and global billing
Revenue recognition and billing management tools
Billing system analytics and metrics
Built-in integrations with various other software (e.g., accounting software like QuickBooks and Xero)
International payment gateways
Related: An In-Depth Guide to Subscription Billing Platforms (+ 5 Options)
Oracle NetSuite: Alternative for Zuora Monetization Platform
Oracle NetSuite is more than a subscription management platform. They offer solutions for accounting, B2B and B2C ecommerce, ERP, CRM, and much more.
Oracle NetSuite may be a good option for companies looking to replace the entire Zuora platform (however, SaaS companies will still have to handle transaction and sales tax liability on their own).
NetSuite makes it possible for developers to integrate their software with nearly any third-party software.
Here are a few highlights of Oracle NetSuite's payment services:
The ability to combine flat, tiered, and consumption-based subscriptions with promotions and discounts
Support for multiple pricing models
Billing consolidation and automation
Revenue recognition for compliance
Support for B2B and B2C payments
Instead of managing a large software stack, let FastSpring handle the entire payment lifecycle for you. If you think FastSpring could be the best Zuora alternative for your business, sign up for a free account or request a demo today.